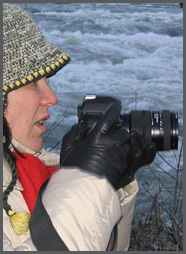 Galina Dreyzina was born in 1973 in Dubna, Moscow region, Russia.
She graduated Moscow State University in 1995 with MD in Environmental Engineering. She started her photography in 1990. Ever since than the photography was the biggest passion of her life. As a member of photo studio "Obraz" Galina participated in various exhibitions.
In her work Galina likes to experiment with color, light and composition. With modern digital technology she occasionally misses the dark room times. This however does not stop her to move on with the progress and get all the advantage of hardware innovations. Galina enjoys the studio sessions as much as outdoor shoot-outs. Nature, streets of big cities and other aspects of being inspire her work and attract her camera. You can browse a several samples of it here, on this site. Her specialties are the pictures of babies, their parents and relatives.

She now lives in Brooklyn, New York. She is married and has one son.

top